Is It TotAha A Good Brand? (Baby Loungers, Baby Pillows and Baby Bibs)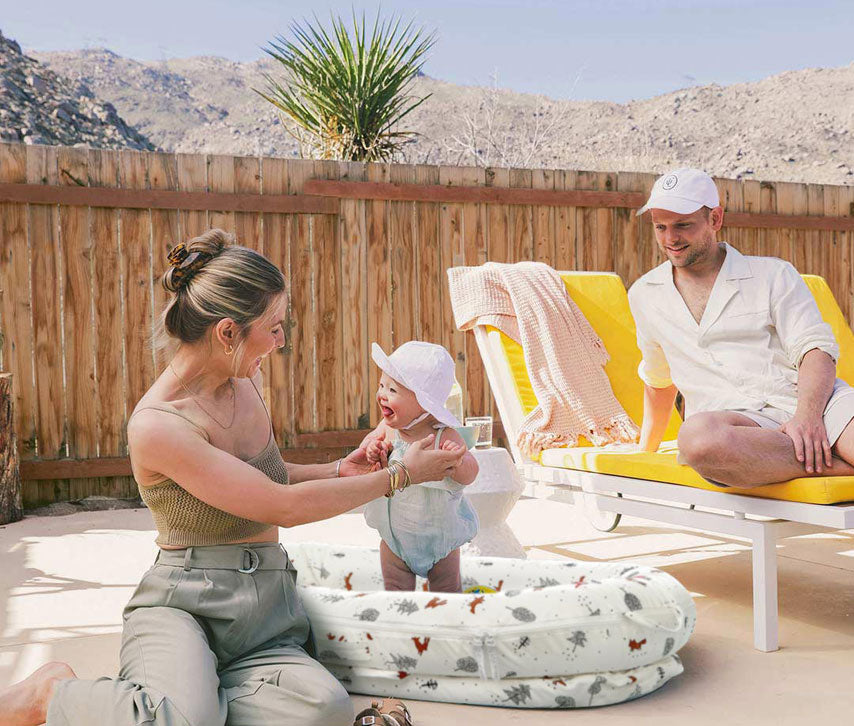 What Is The TotAha Brand Known For?
We found our TotAha baby products company in 2019 with the deep desire to give parents safe and quality products for their little ones. That's why we have a slogan that says "Safe and Comfortable Always."

Our current products include baby loungers and baby pillows that give your infant a more comfortable headrest. We also have adorable baby bibs as extra add-ons for during feeding times.

The above products are some of the most successful in our company. They have been all tailored from customers' reviews and feedback. Also, all these were mainly based on how customers felt about our products. It was in a bid to improve trust and reliability between the clients and us.
 Is TotAha A Good Brand For Baby Loungers?
There are many baby loungers in the market, and it can be pretty hard to choose which one is the best for your child. 
That is why we, as parents, attempted to create one that stands out from the crowd. Hence the blissful TotAha Baby Lounger.
In our time parenting, we hated that most baby loungers hadn't considered the safety, comfort, sturdiness, and quality of material used. That is why we put a lot of effort into research and development. We wanted to ensure our loungers stay baby-safe, reliable, and unique. 

We sourced the best organic cotton from Australia and top-quality textiles from Taiwan. We also got our soft fabric from New Zealand and the Netherlands to make TotAha's high-standard baby loungers.

They've better-improved tubings that are breathable, easy to wash, and prevent sudden falls. 

What's more, we included extra padding at the bottom to hold all that extra weight as your child grows. It ensures that they get the most out of our baby loungers.

The best part is that our baby lounges are hypoallergenic and pose no threat of irritation. Your baby will have soft, immersive sleep all the time.
Below is what we got from our customer reviews:
TotAha baby loungers are the best gift to your child if they don't like getting swaddled all the time. The sturdy tubing walls offer them something they can touch as they sleep to give them security. It does this without letting them get too close to the actual wall! It calms and helps settle your child back to sleep safely without falling off.
● You can set it up in a bassinet to allow you to monitor your little one more efficiently during the night. You can also use the lounger as a co-sleeper on top of your bed or the floor. You can use it in any comfortable space near you without the fear of affecting your baby's quality of sleep.
● It works just as well for your baby's supervised daytime naps, tummy time, playtime, and even nappy changes. 
● Packing will now be less time-consuming when planning to visit friends and family. Our baby lounger comes with a to-go carrying bag and a set of 5 cute baby bibs for drools and spills along the road.
● Your baby gets extra hours of sleep throughout the early months of their growth. That is because of the high-quality, soft, 100% organic cotton material and fabric. It also has buckles that adjust the lounger's size for extra space that allows your kid to use it for up to 12 months!
● They are super easy to put together after unboxing. It's also easy to move around while in the house without startling your little one from their sleep. 
● You won't have to worry when your child makes a mess anymore as TotAha loungers are easy to wash, dry, and refit. A simple wipe will leave the fabric sparkling clean again if you're dealing with minor spills or drools.
● The 14 cover patterns make it easier for you to pick something that matches your baby's room's interior design. You don't have to worry about spoiling the decor or anything like that!
Are TotAha baby pillows Good?
We made our comfortable head-shaping TotAha baby pillows with three essential things in mind. 

These include: 
● creating a better night's sleep for your baby
● offering products that don't sacrifice quality
● saving you money

Our baby pillows design allows your little one to use them from birth until they reach two years old. 

It has multiple sides to support your baby's head and neck while resting or sleeping. You can position your tot to sleep sitting up or lying down with great comfort. 

It also has a thick, high-density foam that gives better support than other pillows. So it's safe for your baby's delicate frame. And it also works wonders in protecting your little one from getting a flat head.

What makes our pillow stand out is its breathable cover material. It's made from pure organic cotton that's soft to the touch, easy to wash, and very durable.

With our TotAha Baby Pillows:
You and your baby will have a better chance to prevent and correct flathead or a wry neck without turning them over and over again as they sleep. Our TotAha pillow has a soft, middle dent at the center that gives your little one's head gentle support. It's a perfect choice for newborns!
● The pillow stays in place and won't move each time your baby scoots. The multiple sides design ensures it remains stationary as your tot turns around. 
● Your little one will have a calmer rest. It helps relieve discomforts that may arise from acid reflux and gassy tummy.
● It works great if your little one has a long neck. It is both fluffy and wide enough to cover wider/longer head-shoulder breadths.
● There is a lesser chance of allergic reactions due to high-quality fabric and hand-sewn texture. Your child gets to sleep longer hours without having to wake up to scratch because of the material they sleep on.
● We cab use the baby pillows in a dock/lounger or a bassinet if you need to change the environment.
● Cleaning them is a total breeze as they are effortless to wash and dry.
Are TotAha baby bibs Good?
The TotAha baby bibs are a perfect example of simple design. Their sole purpose is to keep your baby dry and happy during mealtime. 

Their cute bandana shape is also made from 100% cotton knit fabric for good absorption of fluids. They include a double snap-in band at the back that helps you put them on securely. 

Also designed in the US, these bibs include three sizes with five pastel colors and an easy-to-hold towel-like grip. On top of that, they also come in a pack of five to make sure you always have one at hand whenever your infant makes a mess. 

They'll not only make mealtime more accessible, but they'll also help your little one develop proper eating habits. 

With TotAha Baby Bibs, some of our customers' reviews said:
It's a much cuter design than the traditional baby bibs. The bandana outlook makes them look like sweet little cowboys/cowgirls when feeding. (Who wants to miss that, right?)
● They're comfortable to wear all day. It is because they're soft on the inside and have two spaced snap-ins at the back to keep them in place throughout. You can adjust the snap-ins as needed and they won't fall off like velcro bibs.
● It is much easier handling messy spills and drools as they absorb lots of liquids. Thanks to their terry cloth-like material, you'll save a lot of outfits from stain damage. These bibs are the real deal if your child spits or drools a lot and you want to keep their onesie clean and dry. 
● There is a size option for every toddler. It includes from teething up to when they reach past a year when the mess is a bit under control. You won't have to deal with bibs covering your baby's hands all the time.
● You get fantastic pastel colors that would serve well when you wanted to gift family or a friend!
What Makes TotAha A Reliable Company?
Well, from the reviews, you've seen how highly our baby products are currently performing. And to be quite honest, it matters to us, as they help us improve and make better products for all the parents out there. 

Yet, there are still a couple of other reasons you may consider TotAha as a top brand offering baby products.

Some of them are:
● We are a baby products' company made by parents with parenting in thought.
● We value all our customers.
● We go out of our way to ensure that you're satisfied with the baby products we sell.
● We aim to solve parenting problems creatively.
● We offer other accessories to go along with our loungers.
● We've been victims of fake products so we don't want other parents to suffer the same fate.
● We take customer feedback positively and build on that.
● We've garnered very positive product reviews by verified buyers over at Amazon.
● What sets TotAha apart is how much effort and dedication we put into our baby products. We want to make our items feel authentic and well-made.
What Is TotAha?
We founded TotAha for other parents seeking safety, quality, and affordability. 
It was after we faced a lot of disappointments when we first became parents five years ago. We couldn't find baby products that were safe and comfortable for our newborn child.
So, since my husband was (and still is) a material scientist, we decided to make a difference. 
We decided that it was time to create baby products for parents going through the same struggle.
How did we go about it?
In our initial journey, we searched through 11 countries all over the world. We made this bid to get the best raw materials for our brand. We wanted to ensure that every single item made by TotAha had the highest quality standards.
We didn't want to compromise with cheap, generic substitutes like some brands to cut costs.
Our wish is for your baby to get the most comfortable, calm, and sound sleep possible.
Cooperate Responsibility
At TotAha, we're more than a company. 
With each purchase you make, you help us provide and sustain jobs that help more than 100 mothers living in Istanbul, Turkey.
What you might not know is that many of these moms are refugees who come from Syria. 
They all work as hard as they can to provide for their family needs and aim to rebuild their lives in a foreign country.
When you buy any of our TotAha organic products, know that you're empowering a special mother somewhere in the world.
We are Always Seeking to Improve
Our sole purpose is to make current and future parents happy with quality baby products.
If you check the reviews, our company has overgrown because it listens to the customers – yes, you! – and delivers what you need most, i.e., VALUE.
Our TotAha brands are 100%-guaranteed free of defects in material quality and craftsmanship. 
And to prove that, we have a US CPSIA 2008 certification. It shows that we have met (and even exceeded) the general safety regulations for children's products.
We intend to keep this record through our rigorous product testing. These exercises ensure that only the best product reaches you and your baby.
What Are The Best Baby Loungers?
The summary table below will help you decide when buying a baby lounger. The right side shows the features you should look out for.
Baby Lounger

Material quality. - Always aim for 100% organic cotton, anti-allergy, and has OEKO-TEX® certification
Size. - The best baby loungers should be always able to accommodate your child for long without tearing
Ease of assembly. - The baby lounger should not give you a hassle when assembling either after delivery or washing
Ease of cleaning. - Ensure that the baby lounger gives you an easy time to clean as they are often bound to get messy from a spit, drool, or food spills
Sturdiness. - Is the lounger strong enough to carry your child's weight for a long time while maintaining comfort?

 

Lounger's Cover

A good lounger's cover should be always made with high-quality, hypoallergenic fabric
Should be also easy to remove and wash
Should be always made from breathable materials that allow your child to breathe well
Should have zippers outside the dock to prevent injury as a result of pinching or even hair tangling in the lock

 

Pad & Tube

Should consist of soft, pure polyester cotton for a comfortable lounging time for your child
Should be also dense enough to avoid straining your child's back while preventing them from rolling over the sides
Should allow air to pass through so that the baby gets enough oxygen to breathe
Should be also easy to wash and put back in the baby lounger

 
Where to Buy TotAha Products?
To conveniently get any of our baby products, check out our Amazon store. 
If you're here in the US and have subscribed to Amazon Prime, you'll get your package delivered within two business days.
You can also see our entire catalog on our official website at TotAha.com.
In Conclusion
Creating the best quality and effective products remains our primary goal.
We'd also like to remind you that at TotAha, your baby's safety and comfort come first.
As you'll probably see from the reviews, we offer the best when it comes to baby loungers and accessories like baby pillows and bibs.

I hope we answered your questions and you had a lovely time scouring through our page today! 

Until next time
Happy Parenting!